UPDATE! ANNOUNCING NEW CAST MEMBERS!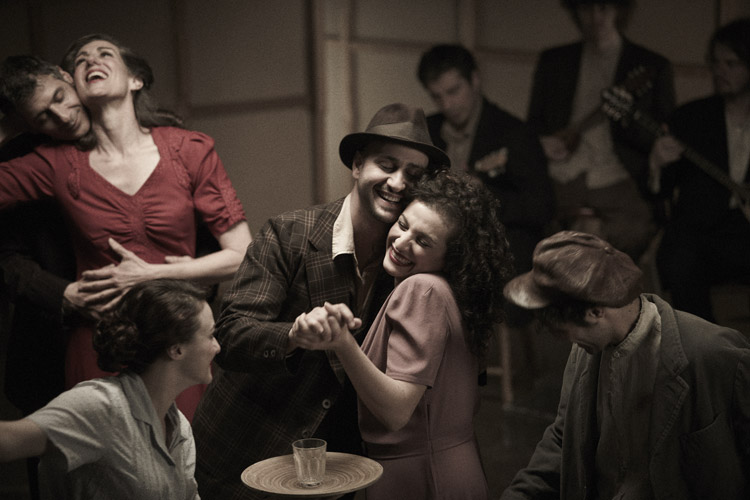 Cast of Cafe Rebetika! Photo by John Tsiavis
Stephen Lloyd Helper – Director/Conceiver/Co-Writer



Steve's production of FIDDLER ON THE ROOF for Jerome Robbins starring Herschel Bernardi and Maria Karnilova was nominated for the Best Revival Tony Award. SMOKEY JOE'S CAFE, which he conceived for Broadway, is among the 30 longest running Broadway musicals of all time. SMOKEY JOE'S was also a hit in the West End, on numerous American National Tours and has been performed on every inhabited continent.

Recently Steve directed and produced the critically acclaimed production of SYNCOPATION by Allan Knee at Chapel Off Chapel (Melbourne) and is slated to tour with Critical Stages throughout Australia in 2012. In addition, the York Theatre Company in New York City has picked it up for an Off-Broadway season.

For the Aboriginal Centre for Performing Arts, Steve conceived and directed a new musical, SOUL MUSIC, devised with members of ACPA at the Queensland Performing Arts Centre. Due to the success of a new musical work Steve conceived and directed at the Queensland Performing Arts Centre with the Aboriginal Centre for Performing Arts, New Musicals Australia and the Arts Centre in Melbourne has each selected from hundreds of musicals for creative development. Steve is working closely with Aboriginal artists Marcus Cowora (music and lyrics) and Leeroy Bilney (book collaborator). The show has the working title THE NEW BLACK. Check out the New Musical Australia and Full Tilt websites for presentation dates.

At the Sydney Opera House, Steve co-produced, conceived and directed SIMPLY WEILL - A KURT WEILL CABARET, along with staging the star-studded concert of FOLLIES with the Sydney Symphony Orchestra and YOU'RE GONNA LOVE TOMORROW by Stephen Sondheim and LOVE LETTERS all to critical acclaim. His production of WHAT THE WORLD NEEDS NOW at the Theatre Royal in Sydney was also a popular success.

Trained at Yale University in Theatre, Steve's other productions include KING JOHN, HAMLET, MARRY ME A LITTLE, INTO THE WOODS, OKLAHOMA!, TWO GENTLEMEN OF VERONA, AGNES OF GOD, MIRACLE MUM and GALLIPOLI THE MUSICAL.

Harry Pavlidis – Stavrakas



A star of movies and television, Harry began his career and training in theatre. His success in the play, THE COURTYARD OF MIRACLES by the modern Greek playwright Iakovos Kambanellis for the State Theatre Company of South Australia, brought Harry a number of opportunities including starring as the Archangel Uriel in GABRIEL, for Sony Pictures. He has worked for all the major production houses including Freemantle Media, 9 Network, Southern Star, 7 Network, ABC Television, Grundy Productions and Crackerjack. He has also appeared more than 40 times with Opera Australia. He trained at the Beverly Hills Playhouse, Screenwise and Actors Centre Australia. He is proud to have the opportunity to honour his Grandfather, for whom he is named, who was forced out of Turkey in the Great Catastrophe of 1922 - the background of CAFÉ REBETIKA!

Rebetiki: Argyris Argyropoulos, Takis Dimitriou, Tony Iliou, Achilles Yiangoulli – Rebetes Musicians



CAFÉ REBETIKA! owes much to the music that granted it its setting and inspiration. This style of music known as rebetika, or the Greek blues, has taken a long journey from the slums of Greece in the early 20th century to worldwide recognition.

Melbourne-based band Rebetiki has been playing this music for more than a decade to much acclaim both here and overseas. They play traditional instruments drawn from rebetika, especially the six-string bouzouki and baglama, and will be presenting an acoustic passage through a musical style just as vibrant today as it was during its initial development. Rebetiki will perform with well-known local musicians making Café Rebetika a play not to be missed.

Jennifer Vuletic – Areti, A woman from Smyrna



A NIDA graduate from the class of 1984, Jennifer has enjoyed a varied career travelling all over the world - Tokyo, Hong Kong, Turkey, Sweden, Singapore, New York, New Zealand - and all over Australia in her work as an actress and singer. She has worked for such varied companies as The Sydney Theatre Company, Queensland Theatre Company, Belvoir Street, South Australian Opera Company, Western Australian Opera Company, South Australian Theatre Company, Griffin Theatre Company, Riverina Theatre Company and Darwin Theatre Company. Jennifer toured internationally and nationally (2003-2005) with the hit show MAMMA MIA, playing the role of Tanya, and went straight from that to another hit show, MENOPAUSE THE MUSICAL which toured all over Australia and New Zealand. She later performed in the award-winning Barrie Kosky production (STC/Malthouse) of THE WOMEN OF TROY and appeared in JERRY SPRINGER - THE OPERA at the Sydney Opera House performing the role of Zandra. Most recently Jennifer was seen reprising the role of Tanya in the 10th anniversary tour of MAMMA MIA. She has also penned six cabarets, including BALKAN AFTER MIDNIGHT which won an award at the 2001 Sydney Cabaret Convention.

Stephen Lopez – Petraki, a young man from Smyrna



Stephen Lopez has been performing in Film, Television & Theatre since he was 11 years old. He trained at the Centrestage Performing Arts School and recently completed their full time musical theatre course SHOWFIT. " Although Stephen is of Spanish descent, due to family ties, Greek culture has been apart of his life from a very young age. He is thrilled to join CAFÉ REBETIKA!

Stage credits include THE MILL BOYS, WEST SIDE STORY, INCOMPLETE and RANDOM ACTS OF KINDNESS, OKLAHOMA, HOTWEELS, NO RULES GANG and numerous concerts with Centrestage Performing Arts School.

Stephen's television credits include Lead roles in KICK AND SCOOTER SECRET AGENT, as well as Guest appearances in UNDERBELLY FILES: INFILTRATION, CITY HOMOCIDE, NEIGHBOURS and PAPER PLANES.

IN film, Stephen has a supporting role in both Reverse Runner for Lachstock Productions and Tom White directed by Alkinos Tsilimidos. He has also appeared in the short films MY FAVOURITE CAFE (2011), CHOCOLATE CAKE (2010), LET ME LOVE YOU, PRO LIFE, THIS IS BULLSHIT, and LUSTFUL.

Lucy Najm – Katerina, A Sole Trader



Lucy Najm has been performing in dramatic as well as musical theatre for a number of years. She has a BA degree in Drama and Literature and is a classical and contemporary trained singer. Najm has featured in productions at La Mama Theatre, DIALOGUE WITH THE SONG OF SONGS and The Oxford Theatre's RAGETTY ANN. Recently, Najm has lately focused on solo gigs around the Mornington Peninsula and is a recent graduate of 16th Street Acting Studio.

Michael Kotsohilis – Nikos – A Koutsevaki; Gregoris – A Pesticide Factory Worker



Michael Kotsohilis is a graduate from the Australian Academy of Dramatic Art and the winner of the 2006 Tropfest Casting Couch. His stage credits include King Creon in ANTIGONE directed by Bogdan Koca and the Journalist and Straw man in THE WEDDING (Third international Theatre Festival, Poland). He was the producer of P.V.T WARS where he played Silvio at the Tap Gallery and was in GROUNDS FOR MARRIAGE, directed by Nicholas Papadimitriou where he played Harry. His screen credits include the lead role of Sava in the feature film CREATURES OF CREATION (Cannes Film Festival) and the guest role in THE PLEX an Australian Feature directed by Tim Boyle. Most recently Michael has featured in numerous short films including THE END; L FOR LOVE; and THE DARK SIDE OF WAR.

Alex Blias – Yiorgos – An Anarchic Stoner; Michalis – A New Recruit



Alex Blias' career started in Adelaide in 1998 when he was cast in a lead support role in the feature film SPANK! His television credits include ALL SAINTS (7 Network) and UNDERBELLY (Underbelly III - The Golden Mile) and his film roles include a support lead in the feature film GET RICH QUICK, SPANK! and lead roles in many awarded short films including GAMBLER, SAVIOUR, INEXTRICABLE, ROMANCE and DARK HORSE. Blias' theatre credits include major roles with the State Theatre Company of South Australia in COURTYARD OF MIRACLES and Lightning Strike Theatre in MUCH ADO ABOUT NOTHING. In 2005 and 2006 he performed in The Melbourne International Comedy Festival and Cracker Comedy Festival for Sidetrack Performance Group in the hit shows IT'S A MOTHER! and IT'S A FATHER! To packed houses and sold out shows.

Sophia Katos – Fofo – A Waitress and Lover of Stories



Sophia Katos is a 22 year old singer/songwriter and actor from Victoria. Upon graduating from the National Institute of Dramatic Art's 'Singer Dancer Actor' course, she performed alongside Australian icon Barry Crocker in the cult musical, REEFER MADNESS. In 2008, Sophia was invited to sing the opening hymn for DAYS IN THE DIOCESES (World Youth Day) at Melbourne's Telstra Dome. She was a lead vocalist in BACHARACH RETROSPECTIVE (PACD Productions) and toured the country as featured vocalist in WILD WORLD-THE CAT STEVENS STORY (HIT Productions). 2009 saw Sophia make her television debut as Artemis on Channel Seven's PACKED TO THE RAFTERS. This year, Sophia has released her debut album, "Worry Is Like A Rocking Chair." She is thrilled to be getting back to her Greek roots as Fofo!

Thomas Papathanassiou – Co-writer, Choreographer



Thomas Papathanassiou completed his theatre training at Curtin University (Theatre Arts), WAAPA (Music Theatre) and VCA (Performance Creation - Animateuring) and has since performed in numerous creative developments and productions, including CHICAGO (Australasian tour), IRENE with Hollywood legend Debbie Reynolds, and THE CAUCASIAN CHALK CIRCLE (Black Swan State Theatre Company). His acclaimed, self-devised solo show, LOOMING THE MEMORY, has been performed in Perth, Adelaide, Melbourne, Darwin, Singapore and New York, collecting Best Actor (2006 Perth Theatre Trust/Equity Guild Awards) and Best Production (2007 Blue Room Awards). He is also a freelance director, writer, choreographer and acting tutor and currently Associate Lecturer in the Acting for Screen and Stage course at Charles Sturt University.

Nigel Levings – Lighting Designer



Nigel Levings is one of Australia's leading lighting designers. In a career spanning 40 years he has lit over 430 productions. He is the only Australian lighting designer ever to win a Tony Award. Nominated for THE KING AND I in 1996 he cleaned up in 2003 with all three Broadway awards for LA BOHEME. His many opera credits include productions in Chicago, Los Angeles, St Petersburg, Paris, Berlin London and Sydney.

Adrienne Chisholm – Costume Designer



Adrienne originally trained as a graphic designer and later studied theatre design at the VCA. She has designed sets, costumes and puppets for such companies as Melbourne and Sydney Theatre Companies (Poor Boy), Melbourne Workers Theatre, Spanda Productions, Danceworks, The Eleventh Hour, Playbox, Polyglot Puppet Theatre, The Wiggles, the Keene-Taylor Theatre Project. She won a Green Room Award for her set design for 'The Burlesque Hour' which has toured extensively in Australia and internationally.

Bill Buckley – Set Designer



Bill works in film, theatre, visual arts, architecture, interior and industrial design. A student of architecture for 5 years he has practiced across the field; using the conceptual and practical framework of architecture to inform and inspire his process. His abilities in concept development, design and construction have made him an indispensable collaborator on numerous Australian and international projects.

David Franzke – Sound Effects Designer



David has designed sound for both stage and screen, including THE GRENADE, AUGUST: OSAGE COUNTY, DON JUAN IN SOHO for Melbourne Theatre Company; INTIMACY, HOLIDAY, FEATURES OF BLOWN YOUTH for Ranters Theatre; and THE WONDERFUL WORLD OF DISSOCIA for Sydney Theatre Company, which was nominated for best sound design, Sydney Theatre Awards 2009. David has composed soundtracks for film including X, DARK LOVE STORY, ACOLYTES, ROGUE and JOYRIDE.

Angela Costi – Dramaturg



She received the national award for innovation and excellence in community services 2002 for the Relocated Arts project, for which she was the commissioned writer and playwright. Her plays, poems and radio scripts have been extensively published nationally and overseas.

Boucci Kowalenko – Script Consultant and Editor, Lyrics Translator



Boucci was the chief subtitler for SBS for 28 years, translating the majority of Greek presentations. She is fluent in the slang and language of the manges and the rebetes.

Gail Holst Warhaft – Creative Consultant, Rebetika Authority



In 1975, Gail wrote the seminal book on rebetika in English: THE ROAD TO REMBETIKA, Music of a Greek Sub-Culture: Songs of Love, Sorrow and Hashish. Now in its fourth edition, it is still an authoritative guide. She is currently is the Director of Mediterranean Studies at Cornell University in Ithaca, New York.

Stathis Gauntlett – Creative Consultant, Rebetika Authority



Professor Gauntlett is a leading academic recently elected Fellow to the Australian Academy of the Humanities for his distinguished publications, research and teaching. Stathis has provided vital historical insights and, for the record, the Communist character was his suggestion – thank you
Stathis!

Despina Michael – Creative Consultant, Rebetika Authority



Currently the Head of Greek Studies at La Trobe University, Despina is an extensively published, respected academic and a very hands-on friend of Café Rebetika!

Lin Tobias - La Bella Design - Graphic Designer



Lin's company, La Bella Design has created logos, title treatments and marketing materials for many of the finest independent theatre productions in Melbourne.

John Tsiavis - Studio Photography



John is one of Australia's leading print photographers. He created the image used on the poster and the publicity photos for the production. His work is seen in leading style and lifestyle magazines as well as Australian newspapers on a regular basis.

Sarah Collins: Production Stills Photographer




Anna Jacobs - Web Designer



Anna has a professional background working across countless areas in the creative industries. These include event management and production, web and graphic design, financial project management, marketing and publicity.

Shalini Nair - Website Editor



Shalini has taken on various roles in the performing arts from producing to stage management and graphic design. She is currently the Program Producer at ILBIJERRI Theatre Company and works casually at Melbourne Theatre Company. With an Arts Management degree from WAAPA, Shalini has worked as Associate Producer at The Blue Room in Perth and Administration Manager at Polyglot Theatre. She has worked with The Necessary Stage, Melbourne Writer's Festival and Auspicious Arts Incubator. She was Assistant Producer for SYNCOPATION by The Follies Company (2010) and co-produced ATTRACT/REPEL by The Melbourne Town Players (2009). Shalini is also a qualified graphic and web designer and brings her creative skills to this production.